Happy Friday!!

This week's question:

Q. What book that hasn't been turned into a movie (yet) would you most like to see make it to the big screen, and who would you like cast as your favorite character?
A. I am in the middle of listening to The Passage by Justin Cronin right now and I think that it would make an amazing mini series - Stephen King style! And I'm kind of feeling Mark Wahlberg for Brad Wolgast.
Q. In honor of Banned Books Week, what is your favorite "banned or frequently challenged book"?
A. I could go with the standard Harry Potter and it would be a good answer ;p but I just looked through the list for my post yesterday...and the one book on it that I've read recently and am in love with is East of Eden by John Steinbeck. If you haven't picked it up, do so...it is definitely one not to miss!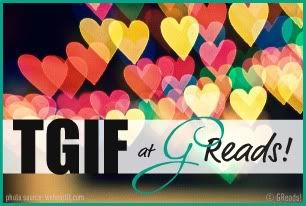 Q. Banned Books: How do you feel about the censorship of the freedom to read? Do you think the education system needs to be more strict on what children are exposed to in books?
I definitely feel that there should be the freedom to read whatever one wants...I am a liberal after all. However when it comes to children I do (perhaps unpopularly) think that the education system in concert with parents needs to make sure that children are reading age appropriate material. I went to a pretty liberal high school and although it was wonderful in many aspects...I can remember at least one book that was required reading which I felt was inappropriate for my age group and that I complained about.