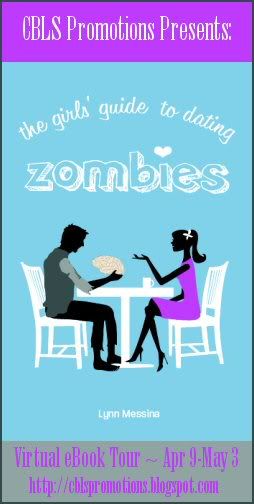 I am happy to Lynn Messina here to chat with me about her book: The Girl's Guide to Dating Zombies

1. Please start by telling us a little bit about yourself.
I live in New York City with my husband and two sons. I work in magazines as a freelance copy editor, which is a great gig if you want to be a writer cause you get lots of downtime. I love cheese, and my favorite color is blue.
2. When did you know that you wanted to write professionally and how did you take the leap to get into the business?
Funny. I don't know if there ever was a moment when I realized I wanted to write professionally. I just knew that I wanted to get a book published, and the desire to get a book published was completely cut off from the concept of financial compensation—as it still seems to be = )
The leap for me came when I decided to turn down a full-time job to go freelance. I worked full time for three years and during the entire time, I didn't write a single word. So when my company was bought out, I took the layoff package rather than transition to the new company.
3. Can you tell me a little bit about The Girl's Guide to Dating Zombies and what inspired it?
A zombie apocalypse has turned the vast majority of men into zombies. Women are immune. Twenty years into the plague, straight women are dating zombies, and Hattie Cross, a zombie-dating expert, publishes a zombie-dating how-to to help other women figure it out. The book catches the attention of the CEO of the world's larges zombie pharmaceutical company, and Hattie is invited to do a profile. Comedy and mayhem ensue. It's zombie chick lit.
The idea was sparked by an appearance on an Internet talk show, which I was on to promote my last book, Little Vampire Women. We started the inevitable debate of vampires verses zombies, and I was emphatically on Team Vampire because zombie have no learning curve so I couldn't imagine how they could be anything other than mindless, blobby, brain-eating monster things. But as soon as I thought that, I began trying to figure out how to make them more than mindless, blobby, brain-eating monster things. And, well, from there, it was just a matter of coming up with the most outrageous premise possible.
4. What do you hope that readers take way with them after reading your book?
That relationships require work, no matter what the species (and that perhaps men are a little less work than zombies).
5. I find it interesting to know what environment authors find most productive… Do you use a pen and paper or laptop? Quiet room at home or bustling café? Basically, what gets your creative juices flowing?
I write best at the kitchen table on a day when I have nothing else to do but write. Increasi, emaingly, there are all these awful, niggling things that have to be done—calls, appointments, freelance projects, email—and the days when I can write for hours without interruption are rare. Even more rare is an entire uninterrupted week. I cherish those.
6. What has been the toughest criticism given to you as an author? What has been the best compliment?
Kirkus said of my first book, Fashionistas, which was almost universally hailed as fun and witty, that it has "a few funny lines but the dispirited tone sinks it fast." I was gutted because it was so baffling. There were many things to criticize about the book—it's far from perfect—but the tone being dispirited? I haven't a clue. Almost a decade later, my husband and I still joke about my dispirited tone sinking good time fast when we're out having fun.
John Matteson, who won the Pulitzer Prize for his biography of Louisa May Alcott, agreed to moderate a discussion about Little Women mashup—which was amazing in itself. I thought he would be horrified by vampires in Litle Women. But he was totally game, and he enjoyed my book. He could actually point to things he liked.
7. What book is currently on your nightstand? And who are some of your favorite authors?
Green Grass Grace by Shawn McBride. Favorite writers include: Dawn Powell, Kate Atkins, Jennifer Saunders, Tom Stoppard, Elizabeth Peters.
8. What do you like to do when you're not writing?
I love watching TV. With two small children, I have very little time for TV, and my DVR is typically backlogged by a month or two. But that's nice because there's always something to watch when I get the chance. I also like talking about TV, having lunch with friends, playing with my boys, traveling, hanging out with my husband.
9. Do you have any advice for aspiring writers?
Stick with it. Fashionistas, which was the first book I sold, was the eleventh book I wrote.
10. What can we expect from you next?
In June, Diversion Books is publishing my novel Bleak, which is a modern retelling of Bleak House by Dickens. I've replaced the generations-long court case that ruins almost every life it touches with a movie option that never gets made. It's funny and sweet and I'm really excited for it.
And now for a little bit of fun:) This or That?
(Yay. I love a speed round!)
Coffee or Tea? Tea
Sweet or Salty? Sweet and salty
Beach or Lake? Beach
Winter or Summer? Summer
Cats or Dogs? Dogs
Zombies or Vampires? Zombies now. Vampires last year.
Country or City? City
Shower or Bath? Show
Morning or Evening? Evening
M&Ms or Skittles? M&Ms
Trains or Planes? Trains
Comedy or Drama? Comedy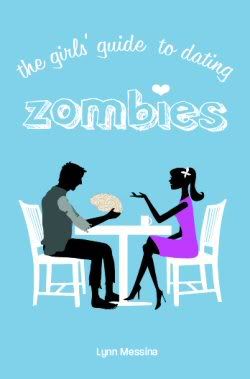 Title:
The Girls' Guide to Dating Zombies
Author:
Lynn Messina
Hattie Cross knows what you're thinking: Zombie sex? Ewwwww. But she also knows that since a virus turned 99.9999 percent of human males into zombies, it's statistically impossible to meet--let alone date--the remaining 0.00001 percent. So she writes "The
Girls
'
Guide
to Dating Zombies" to help her fellow single women navigate the zombie-relationship waters.

Her practical how-to impresses the CEO of the largest drug company in the world, and before she knows it, Hattie, a reporter for a downmarket tabloid that specializes in conspiracy theories, is sitting down with the woman who single-handedly invented the zombie-behavioral-modification market. Granted access to the inner sanctum of zombaceuticals, she meets an actual, living, breathing M-A-N.
Now Hattie, the consummate professional, is acting like a single girl at the end of the twentieth century: self-conscious, klutzy and unable to form a coherent sentence without babbling. Worst of all, the human male appears to have impaired her ability to think clearly. Because all of a sudden she's convinced a conspiracy is afoot at the drug company and it seems to go all the way to the top!

Lynn Messina grew up on Long Island and studied English at Washington University in St. Louis. She has worked at the Museum of Television & Radio (now the Paley Center for Media), TV Guide, In Style, Rolling Stone, Fitness, ForbesLife, Self, Bloomberg Markets and a host of wonderful magazines that have long since disappeared. She mourns the death of print journalism in New York City, where she lives with her husband and sons. She is author of six novels, including the best-selling Fashionistas, which has been translated into 15 languages.
Visit the other stops on the tour: