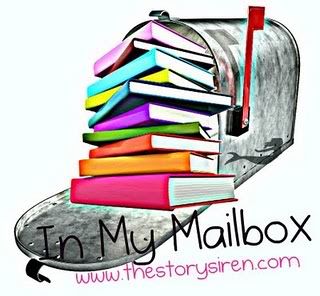 In My Mailbox is a weekly meme created by
The Story Siren
to share whatever books and bookish goodies that you've bought, borrowed, won, or been gifted and have thus entered your home the previous week. You can show off books that you are excited about and it's also a great opportunity to showcase books that you may not actually have the time to read or review.
For Review:
ARC of Struck
- Jennifer Bosworth
Mia Price is a lightning addict. She's survived countless strikes, but her craving to connect to the energy in storms endangers her life and the lives of those around her.
Los Angeles, where lightning rarely strikes, is one of the few places Mia feels safe from her addiction. But when an earthquake devastates the city, her haven is transformed into a minefield of chaos and danger. The beaches become massive tent cities. Downtown is a crumbling wasteland, where a traveling party moves to a different empty building each night, the revelers drawn to the destruction by a force they cannot deny. Two warring cults rise to power, and both see Mia as the key to their opposing doomsday prophecies. They believe she has a connection to the freak electrical storm that caused the quake, and to the far more devastating storm that is yet to come.
Mia wants to trust the enigmatic and alluring Jeremy when he promises to protect her, but she fears he isn't who he claims to be. In the end, the passion and power that brought them together could be their downfall. When the final disaster strikes, Mia must risk unleashing the full horror of her strength to save the people she loves, or lose everything.
E-Copy of The Light Tamer
- Devyn Dawson
Jessie's moved from New York to North Carolina one week after school lets out for summer break. Her newly single mother and Jessie move in with grandma Gayle. Being a teen in a retirement area, is one more thing to add to her 'this sucks' list. It's bad enough to have to move, but even worse her alcoholic father left them as he went on a quest to be an artist in Greece.
Things begin to look up when she is reintroduced to Caleb, the dorky boy that saved her life one summer at the beach. Caleb is no longer scrawny and nerdy, he is now tall, dark and handsome. Caleb is a Light Tamer.
Jessie and Amber become fast friends. Amber is a no frills girl, her snarky comments and sassy attitude will raise a few eyebrows and have you laughing out loud. Amber is rough around the edges, a light tamer with only two years left to find the one she is bound to. Her father's surfing accident left her dad paralyzed and her brother dead.
This paranormal romance will keep you on the edge of your seat with humor, romance, and determination. Fall head over heels for Caleb and Jessie.