Welcome & thank you so much for joining us today Dana!
She is also offering an awesome giveaway so make sure that you read to the bottom!
(If you are on the home page and can't see the Giveaway either click on the post title or "read more" at the bottom to go to the individual post's page!)

1.

Please start by telling us a little bit about yourself.
I am a paranormal romance author of the Spiritus series. I live in beautiful Southern Indiana and I am the proud dance mom (don't believe what you see on television) to a beautiful daughter.
2.

When did you know that you wanted to write professionally and how did you take the leap to get into the business?
Even as a kid, I was making up stories and acting them out, so I think I always knew. I wrote all through high school and became a guest columnist for my local newspaper right after graduation. A few years later, I started submitting to literary magazines and enjoyed some success.
3.

Can you tell me a little bit about Spiritus and what inspired it?
Spiritus is about a girl, Becca, that moves to Corydon Indiana. She's the typical new kid at school and, of course, has the hots for the most popular guy, but what really makes Becca special is that her new home is haunted by a ghost named Alastor. Alastor believes that Becca is his dead wife reincarnated. The real catch is that his wife is the one that killed him. So is Alastor back for love or revenge?
4.

What do you hope that readers take way with them after reading your book?
I would hope that readers would question their own beliefs about the possibility of life after death.
5.

I find it interesting to know what environment authors find most productive… Do you use a pen and paper or laptop? Quiet room at home or bustling café? Basically, what gets your creative juices flowing?
I tend to write everything out with pen and paper first. I also don't write in order, I write whatever I feel most strongly about at that moment. I can write anywhere, quiet or loud, which helps me since I'm often doing it while waiting for my daughter to get out of rehearsals.
6.

What has been the toughest criticism given to you as an author? What has been the best compliment?
The toughest criticism came from my first reader, which surprisingly is my mother. She is often my toughest critic (no family loyalty there) and has told me a few times that something is just "crap" or "sucks". The best compliment came from a book reviewer and it was about Spiritus and how it made her cry. You don't get better than that!
7.

What book is currently on your nightstand? And who are some of your favorite authors?
I'm really far behind in my reading, but right now I'm reading Shattered by Sophia Sharp. I love Amanda Hocking's books and anything by Anne Rice. My all-time favorite though is Margaret Mitchell.
8.

What do you like to do when you're not writing?
I'm a dance competition junkie and love seeing my daughter compete. I also love gardening and watching movies.
9.

Do you have any advice for aspiring writers?
My advice is always the same: Read a lot and write a lot. In my opinion, that's the only way to become a successful writer.
10.

What can we expect from you next?
Well, book#2 in the Spiritus series will be out very soon. I'm hoping to finish up book#3 by fall and then I have a few ideas floating around in my head that might see the light of day in time for Christmas.
And now for a little bit of fun:) This or That?
Coffee or Tea?
Coffee
Sweet or Salty?
Sweet
Beach or Lake?
Beach
Winter or Summer?
Summer
Cats or Dogs?
Dogs
Zombies or Vampires?
Vampires
Country or City?
Country
Shower or Bath?
Bath
Morning or Evening?
Evening
M&Ms or Skittles?
Skittles
Trains or Planes?
Planes
Comedy or Drama?
Drama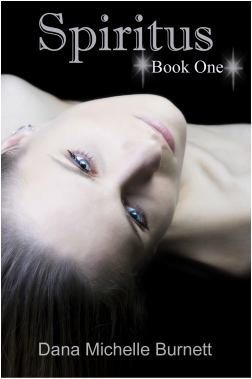 When Becca moves into her ancestral home in Corydon, Indiana, her life takes a puzzling and thrilling turn when she meets the ghost haunting the halls. As the seductive spirit lures her closer and closer, she learns about her own past and starts to understand that some mistakes are meant to last.

Becca McAllister has always been different from other girls her age. Never part of the "in crowd", Becca never really fit in anywhere. When her mother dies and her father moves them to the small town of Corydon, Indiana, Becca didn't expect things to change.

But things do change when Becca accidentally makes contact with a one hundred and sixty year old ghost, Alastor Sinclair, that haunts the halls of her new home.
To Becca, Alastor is a seductive spirit that seems to see straight into her soul. To Alastor, Becca is what he was waited a century for--A second chance.
But the closer they get, the more Becca realizes that this isn't the first time she and Alastor have known each other. Worse still, is she the one responsible for his death so long ago? And if so, did he come back for love or revenge?


Dana has been kind enough to offer a print of her book Spiritus to a lucky winner:) Make sure that you answer her question in the comments below and then fill out the rafflecopter!
Dana's Question:
What's your favorite ghost story?
a Rafflecopter giveaway