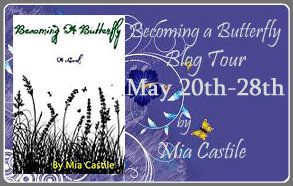 I am so happy to have Lacey from Mia Castile's Becoming a Butterfly here today for an interview!

Hi Lacey:) Welcome to Melissa's Eclectic Bookshelf!


Hi Melissa, It's so nice to be here, thank you for having me. This is my first interview, like, ever, I'm a little nervous. The good thing is I don't have to actually walk anywhere, because that might be a little embarrassing.

1.

Can you tell us a little bit about what it was like growing up with two best friends who grew into much more popular figures in school than you were? And how did that affect your relationships?

Our friendship is definitely unique. I think it's important to accept your friends for who they are and not try to change them. That's what we do with each other and it seems to work. Jade and Tasha both have tried to help me find myself and have been a great support every time I fall on my face. I've never been jealous of their social status, but I will admit, I have been envious of how easily it comes to them. It's a good thing it's never gone to their heads though, they are pretty well grounded.

2.

What was it about Henry that was so captivating?

Henry is like the unachievable boy that I watched since elementary school. I think I missed our friendship and never understood why we stopped being friends. He had everything that I wanted, very cute, funny, and nice. It's safe to like him though, because he's so unachievable, I guess it's a lesser form of rejection knowing he's out of my league.

3.

And, how could you have a window that close to Henry's (or any boys) without needing a curtain??!!

Haha! I had blinds, but I never lowered or closed them because I felt like I still had a connection to him if the windows were open. And for the record, he didn't close his blinds either, but the point is I got glimpses of him that way, I felt close to him. I definitely realized my freedom after I lowered the blinds though.

4.

What did it feel like to see the attention that "Farrah" was receiving, knowing that she was in essence you?

Nerve-wracking mostly, but liberating too. She gave me a voice, when before I didn't even know the words. Farrah did things and said things that I thought I could never get away with. I guess, maybe she made it easier to be me.

5.

What were you feeling when you first met Chase? And now?

Chase really intimidated me at first. He was this cool collected quiet guy. Then he scared me knowing about Farrah. He's really smart and figured it out so fast. What I learned about Chase is that he's the most genuine person I know. He knows who he is, and what he stands for. He's become my best friend and understands me in a way no one else can. It's amazing when someone like that comes into your life, you should hold on to them tight.

6.

How has your relationships with Jade and Tasha evolved?

There comes a time when you have to decide if the friendship is worth fighting for. With the whole Farrah situation, we definitely reached that crossroad. I'm grateful, that they stood by me, as I muddled through discovering myself. I think we all grew up a little. That's the test of true friendship.

7.

What advice do you have for other teenage girls who may be/feel unpopular?

I'm told that most people don't peak in high school, and it will only get better from here. So my advice would be to figure out who you are, and be that person. Don't worry about popularity, as long as you have a few close friends to trust, then down the road they'll still be there when popularity fades. That goes both ways, be the kind of friend that you would want to have. No one can dictate how you perceive yourself.


8.

Is there one thing that you can tell us that no one else knows about you?

Wow! Going for the kill?! Lol. If I tell you then all your followers will know my secret. Can you have them sign a waiver before they read this post? Most everyone knows I'm a gamer, but a few years ago, I went on this rampage of collecting old consoles and games. I guess that's probably not unique, but what I learned was my favorite old school games and character is from my sega genesis and it's *hangs head in shame* Sonic the hedgehog. So much so that sometimes I watch old cartoon episodes on the internet. Not my proudest moments.

16 year old Lacey was never the center of attention, unless she was tripping, stammering, or being deposited into a pool by the local popular kids. All she wanted was to fit in, until one night when everything changed.
Jade and Tasha, her two best friends, helped her create an online personality that was everything she wanted to be - and it was only the beginning. In doing so she attracted the attention of Henry, her lifelong crush and next door neighbor. Unfortunately it was Farrah, her online personality and not herself, he was interested in.
She also attracted Chase the brooding, quiet, anti-social new kid of Brownsburg High School, who easily figured out her secret and blackmailed her. They forged a friendship that was both unique and complicated.
Lacey must decide if revealing herself to Henry and her entire school as the cool, charming, and funny Farrah is worth possibly losing him forever, and she finds herself needing to make an even harder decision than she ever thought possible. When did the lines between truth and lies get so blurred?
Becoming a Butterfly is a story about coming of age and finding yourself when you never knew you were lost.

This is a story about a girl, named Mia. She grew up in suburb of medium sized city. There were cold winters, and hot sticky summers. Mia's favorite seasons were spring and fall. She enjoyed the mild seasons, but also loved the vibrant colors each possessed.
Mia loved music. She didn't just love it, she sat on the floor in front of her Casio stereo for hours at a time, recording songs off the radio. Then she would cue them up and make sure she only got the music as she recorded them on a second tape, without the DJ's voices on them, just the music. Then she would listen to those songs absorbing the words as she sat in her room and wrote her poetry.
She wrote her first Poem when she was thirteen. It was called Sands of Time. When she was sixteen and again when she was eighteen she won two state competitions for her poetry. Her Poetry was stories of roses, starry nights, love, loss, and the scars left behind. She found recourse in those private moments filling notebooks of her writings. As she grew so did her inspirations, and when ever it hit her the rest of the world melted away until her verses were written, alive in the world.
Even today as Mia writes mostly YA fiction, poetry still holds a special place in her heart. Her love for all things words propels her forward in her pursuit of the next great story. Her Debut Novel The Ocean will be released this spring.