1. Please start by telling us a little bit about yourself.
I'm married, father of 5, and self-employed, running a log home business in southern Montana.
2. When did you know that you wanted to write professionally and how did you take the leap to get into the business?
Wanting to write professionally has been a recent thing. When I set out to write the book, it was as much a "let's see if I can do this," kind of impulse as anything. The process went well and the results have been encouraging. Now I have all these book ideas floating around in my head and I don't have the time to get them on paper. If things work out for me, I might try and see if I can hire out more of my work and spend more time writing. It's kind of a risk, so I'm a little nervous to take that step.
3. Can you tell me a little bit about 77 Days in September and what inspired it?
The book is about a husband and wife separated by a terrible event, and their devotion to each other and the price they pay to try and re-unite. It's kind of a techno-thriller love story (I figured, hey, I'm a new author, why not start a new genre for writers). It was inspired by all the books I was finding about affairs, and divorce, and love gone wrong. I wanted to create characters who were faithful and devoted to each other.


4. What do you hope that readers take way with them after reading your book?
The premise is terrorists launching a nuclear weapon and using it as an electromagnetic pulse (EMP). That is one of the biggest threats our country faces, and very few people know about it. I want to both warn people of that danger, while giving them good characters to cheer for.


5. I find it interesting to know what environment authors find most productive… Do you use a pen and paper or laptop? Quiet room at home or bustling café? Basically, what gets your creative juices flowing?
I wrote this one on my iMac in my bedroom. I'm a builder, so at the end of 2008, when the economy crashed, I had a lot of time on my hands. When the kids and wife were gone during the day, I plinked away on my computer. Not the most stimulating environment, but it was enough for me to get the job done.


6. What has been the toughest criticism given to you as an author? What has been the best compliment?
My wife was my editor, so everyday she would hand me pages of writing covered in red marks. Once I learned to handle that constructively, the rest has been pretty easy. When customers leave reviews, some have been critical about certain things characters say or do and give me poor ratings. That has been a little frustrating, as characters should be able to do or think what they want, but overall it has not been that big a deal. The best compliment is the number of people willing to leave positive reviews. I've not been the best at leaving reviews for others, so to have so many readers do that has been great. I read every one, and wish I had the means to tell them how much it is appreciated.
7. What book is currently on your nightstand? And who are some of your favorite authors?
I like historical fiction, and just started "Nobody Comes Back," a novel about WWII. I like Steven Pressfield and Colleen McCullough. I've also enjoyed some of Michael Crichton's work.
8. What do you like to do when you're not writing?
I have a big family and am self-employed, so that takes up most of my time. I'm also a political junkie, so spend time reading on the internet.
9. Do you have any advice for aspiring writers?
There has never been a better time to do it, with the digital book revolution, but because of how easy it is, there has likely never been a more competitive time in the industry. Make sure you are doing it with your eyes open to the reality of the situation—you will likely make very little money doing it, but it is an enjoyable, creative undertaking, so give it your best shot. Also, be sure to have an editor. I see lots of reviews of self-published work, and one of the biggest causes of bad reviews in the editing.
10. What can we expect from you next?
I've a book half finished about a guy who can see the future, and how it impacts his community. I would also like to do a sequel to 77 Days in September, among other projects.
And now for a little bit of fun:) This or That?


Coffee or Tea? Orange soda (I'm Mormon, so don't drink either).
Sweet or Salty? Salty
Beach or Lake? Beach (but I live closer to lakes)
Winter or Summer? Summer (grew up in Canada, too much winter)
Cats or Dogs? Dogs—German Shepherd, to be exact
Zombies or Vampires? Zombies (neither, really, but too much Twilight lately)
Country or City? Country (I live on 50 acres and love it)
Shower or Bath? Shower (no time for baths)
Morning or Evening? Evenings (but I write better in the mornings)
M&Ms or Skittles? Skittles (Not big on chocolate)
Trains or Planes? Planes (Trains are too slow)
Comedy or Drama? Comedy (I'm a guy)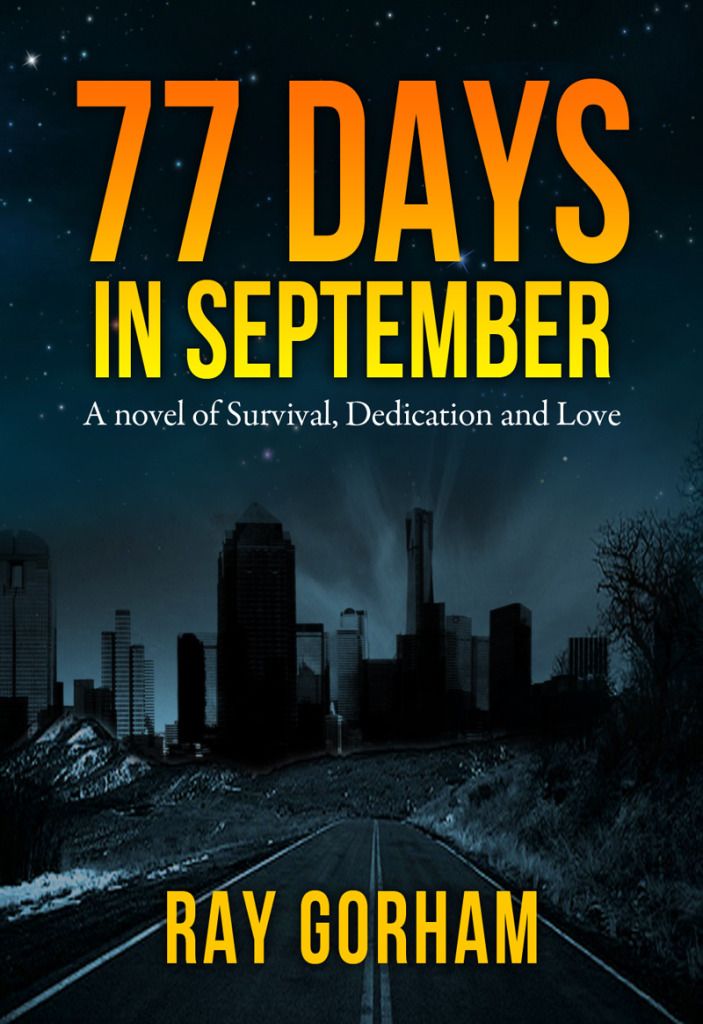 By Ray Gorham


On a Friday afternoon before Labor Day, Americans are getting ready for the holiday weekend, completely unaware of a long-planned terrorist plot about to be launched against the country. Kyle Tait is settling in for his flight home to Montana when a single nuclear bomb is detonated 300 miles above the heart of America. The blast, an Electro-Magnetic Pulse (EMP), destroys every electrical device in the country, and results in the crippling of the power grid, the shutting down of modern communications, and bringing to a halt most forms of transportation.
Kyle narrowly escapes when his airplane crashes on take-off, only to find himself stranded 2,000 miles from home in a country that has been forced, from a technological standpoint, back to the 19th Century. Confused, hurt, scared, and alone, Kyle must make his way across a hostile continent to a family he's not even sure has survived the effects of the attack. As Kyle forges his way home, his frightened family faces their own struggles for survival in a community trying to halt its slow spiral into chaos and anarchy.
77 Days in September follows Kyle and his wife, Jennifer, as they are stretched past their breaking point, but find in their devotion to each other the strength to persevere.

The Excerpt:
High above the sun-baked prairies of Lawrence, Kansas, the missile reached its target. No one on the ground even noticed the blast. Perhaps had someone been looking at precisely the right location, at precisely the right time, they might have noticed a tiny, momentary spark in the bright afternoon sky. Had they seen the flash, it likely would have been attributed to the glint of sunlight reflecting off a passing airplane. From every vantage point below the detonation, there was no sense of the destructive capacity contained in that tiny speck of light. More than 300 miles above the earth, a nuclear explosion impacts nothing with the force of its blast. It is merely a large bomb going off in a vacuum, creating no shockwaves, no fireballs, no radiation, not even any sound.
Despite the lack of explosive destruction, this was now the most lethal weapon to be unleashed in the history of the world, but it was a weapon that would have had absolutely no discernable affect on mankind 200 years ago, other than creating a more colorful aurora. Upon detonation, the bomb expelled an intense wave of gamma radiation in every direction. The gamma rays traveling earthward interacted with the upper levels of the atmosphere and created a chain reaction of displaced electrons that rushed towards the surface of the earth at the speed of light. Most of the these displaced electrons passed rapidly through the atmosphere and grounded themselves harmlessly in the earth.
A small percentage, however, encountered conductive materials: metal, antennas, copper wiring, and silicon chips. As these conductors absorbed untold billions of free electrons, they experienced sudden surges in both voltage and current. In simple items, like a garden rake, this surge was manifested as a harmless static electricity-like spark. But in larger networks and sensitive objects, the consequences of the electron overload were devastating.
They sat in silence, lost in their thoughts and watching the pandemonium. Ed spoke after a long period of silence. "I don't think we'll be flying out of here today, even if we want to. I don't think anyone is. This is completely different from anything I've ever seen or heard of. With all those crashed airplanes, there should be hundreds of emergency vehicles from all over the city out there, but I didn't see a single one. There should have been enough help for us, even with the other planes down. I bet we'd still be waiting out by that airplane if we hadn't come in on our own. Something is wrong at a level I can't fathom."
Kyle nodded. "I've been thinking the same thing. I think everyone is. You can see it in their faces; there's a fear and helplessness that I've never seen. Of course, how are you supposed to act when you've seen an airplane fall from the sky?"
"It's not just one plane wreck, Kyle. It's multiple wrecks. It's no emergency assistance to our flight, and no response for those other planes. It's no power in the terminal. It's total confusion with the airport employees. You saw them. They had no idea what they should be doing. Some of the smart ones are faking it, but most of them look like they want to cry. And the passengers…they're freaked out bad. There's a deeper fear there than just the power being out, more than a plane crash. Have you noticed that no one is using their cell phone? We tried mine, but it's dead. They're all dead. In a situation like this, everyone would be on their phone. It's like…I know this doesn't make any sense, but it's like we've been attacked." Ed paused a moment before continuing. "You remember 9/11?"
Kyle nodded. "Who doesn't? I'll always remember it. I was listening on my car radio 2,000 miles away from New York when it happened, but I'll always remember it."
"It feels like that, but ten times worse. Remember how unreal everything felt that day? How you couldn't believe it was happening, even as you watched it on TV? This feels the same way. I don't know why, but it does."

Ray Gorham was born in Calgary, Alberta, Canada in 1966. Prior to settling in the United States in 1991, Ray had the good fortune to live in a variety of locations around the world. Years in Australia, England, Lebanon, Japan, Canada, and the United States all helped shape his background, worldview, and appreciation for other people and cultures.
Upon graduating from college with a degree in Accounting, Ray decided he couldn't foresee spending a future studying tax law and sitting in front of a computer all day, so he took a management position with Wal-Mart and spent the next 10 years in retail management where he had the opportunity to interact with hundreds of employees and thousands of customers on a weekly basis. After growing tired of working for large corporations, Ray next opened and tried running a restaurant but decided after a year that the restaurant business wasn't for him either. From there, he found a small, log home business for sale in Montana in 2006 and settled in for what he hoped would be a long-term career.
When the construction industry slowed down in 2008, Ray knew he was going to have a lot of time on his hands, so he determined to cross off one of the items on his bucket list—writing a novel. After thousands of hours of writing and editing, he had the final draft of his first novel, a 108,000-word story of a husband struggling to return to his family after a major terrorist attack incapacitates the country. While agents and publishers have passed on his efforts to this point, Ray has found significant success in digital format, selling over 10,000 copies of his work.