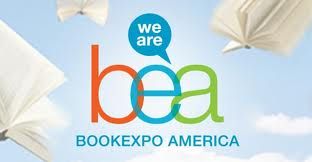 I am so excited to be going to BEA for the first time this year! I just found out today that I'll be able to get off work for all three days!! And since I live in NJ, I'll just be hopping on the train and commuting in each day...much cheaper than worrying about a hotel! I'm trying to figure out what to wear and bring. I know that I need to buy some sort of small rolling suitcase to check at the convention center. My luggage is too large!
I bought my Fiance a Power Readers Pass for Thursday so I'll be dragging him along on that day to see what all the fuss is about:) Also it will be great to have an extra person to wait in lines if there are two awesome signings in the same time slot!
I'm also trying to figure out a schedule of which authors/publishers are "must sees" and which are "hope to sees." I'm trying not to stress too much as I assume it will be mayhem on the floor, schedule or no! I'll also be attending the Random House Power Readers Breakfast on Wednesday morning!
So, do any of you have tips for my first time attending? And are any of you going to BEA this year?? Attending the Power Readers Breakfast??
Let me know so I can keep an eye out for you and if you'd like to try to meet up...shoot me an email:)
PS: This is what I look like when I'm not a garden filled with books and cats ;P
At the Brooklyn Book Festival 2011 with Diana Gabaldon


I'll post my tentative schedule here when I've finished it...