1.

Favorite movie/actor/actress?
Meryl Streep, hands down. Every performance she gives is fabulous.
2.

Favorite song/singer?
Muse
3.

Favorite place you would love to visit?
New Zealand
4.

One item you cannot live without?
Coffee
5.

Who would you like to meet?(dead or alive)
Dalai Lama
6.

Favorite hobby?
Writing.
7.

Guilty pleasure?
Watching The Bachelor.
8.

Favorite author and/book?
I can't possibly choose! But recent faves include Libba Bray's BEAUTY QUEENS and Laurie Halse Anderson's WINTERGIRLS.
9.

Do you collect anything?
Agates gathered on the rocky beaches of Oregon.
10.

Favorite color?
Purple.
(Purple is one of my favorite colors too!)

While she sleeps beside a log on the wild Oregon coast, a rogue wave pulls Marissa into the sea. Now she dreams each night of a merman who rescues her. Obsessed with returning to this beautiful creature, she again risks her life in the frigid ocean.
Will Marissa remain lost forever in the eddies of her mind, or can real love save her from the abyss? Sometimes, the dangers which lie within are the deadliest.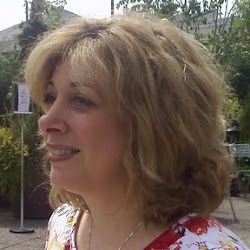 Callie Kingston's home is in the Pacific Northwest, where she lives with many furry creatures (including her husband). She holds a masters degree in psychology and has worked in schools for many years. When not writing, she likes to explore the outdoors, especially the forests and beaches along the Oregon coast. She also enjoys a great cup of cappuccino, which happily is easily found in her part of the world.
a Rafflecopter giveaway