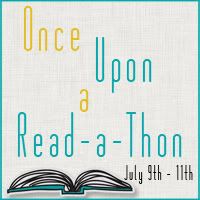 My goals for this read-a-thon are going to be simple as I know that between work, wedding planning and painting parts of my house I'll not have too much time to read.
I hope to finish my current read:
Nadia knows Best - Jill Mansell
Duplicity - Nikki Jefford
The Snow Child - Eowyn Ivey
I also hope to participate in most of the challenges and more importantly--have fun:)
Question 1:
What is your favorite cover that has been revealed this summer and why? Post a link or picture of the cover if you want.
My favorite cover reveal this summer is Shades of Earth (Across the Universe #3) by Beth Revis. Apparently the whole series is getting a face lift. I'm a bit bummed that this cover won't match my other two but I'll be curious to see what the other covers will look like. Not sure why I like this so much..maybe because green is my favorite color and I love nature or maybe just the promise of the book to come.
Question 2:

Do you rely on the cover to help you choose whether you want to read a book or not?
I definitely don't choose books based upon covers...but covers will attract my attention so I'll be more likely to check them out to see if I want to read them!
Reading Update: I didn't get home until after 9pm. After doing what needed doing I was able to read for about 20 min before bed. Knocked out a few more pages of Nadia Knows Best.
Day 2 Updates
First thing that came to my mind was seeing Buffy, The Vampire Slayer fighting the Virals from The Passage. She is one tough lady and could probably take out a few but then they would swarm her and I think that with their speed, and ferocity she'd be eaten before she could even call Willow for help!
I know it is cliche, but I have to say JK Rowling! I also just discovered Sophie Kinsella...
Reading Update
: I finished Nadia Knows Best and am now a couple of chapters into Duplicity. Hopefully I will be able to finish it tomorrow and at least have accomplished 2/3 of my goals:)
My post anticipated book for 2012 is The Twelve by Justin Cronin.
I was actually lucky enough to get a signed ARC at BEA and can't wait to dig in!
This is a hard one! I can only match two!
Reading Update: Didn't quite finish Duplicity...about 50 pages to go...but for a three day span in the middle of the workweek...I'll be happy with 1.5 books read!