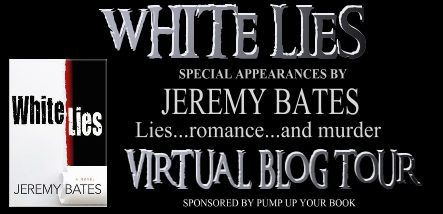 The Situational Thriller: Wrong Place, Wrong Time
My favorite type of thriller is what I call a situational thriller. You know, those books or movies you've seen when the protagonist is smack-dab in the middle of something nasty, and you're thinking: that could happen to me. Scott Smith's A Simple Plan comes immediately to mind. Two brothers find four million bucks in a downed plane. What would you do? A couple prominent films along the same lines are Open Water—a newlywed couple go scuba diving and get stranded in the middle of the ocean. And Frozen—two guys and a girl stuck on a ski lift in freezing weather. Oh, and some hungry wolves far below!
My debut novel, White Lies, is also what I would call a situational thriller—what if a white lie spiraled out of control until you found yourself in a game of life and death? I chose this idea for two reasons. One, as I've mentioned, I like these type of simple what if scenarios. And two, because they're easier for me to write than other thrillers, such as action-adventure, medicine, legal, etc. I love reading action-adventure, but, man, does James Rollins and the crew do their homework. Same with the other genres I mentioned. You have to know your stuff. And truthfully, I like telling the story, not doing the research. Sure there is research that goes into situational thrillers. But you're usually dealing with regular characters in regular environments (albeit exceptional situations), which makes it easy to take that initial what if idea and run with it.
I understand all thrillers place a character in a dicey situation in which he or she must get out of. So I should clarify three conditions that make a so-called situational thriller:
1)
An ordinary person as a protagonist (no cops, FBI agents, etc.)
2)
A situation a character gets himself or herself into (not something he or she is chosen to do)
3)
A relatively simple, straightforward plot
Does anyone know of any novels or films they could recommend that fall under these criteria? I'd love to hear about them!
Title:
White Lies
Author:
Jeremy Bates
Release Date:

May 7th 2012
Publisher:
Oceanview Publishing
While driving to a charming village tucked away deep in the Cascade Mountains of eastern Washington, where she is to begin a new job teaching high school English, Katrina Burton picks up a young hitchhiker who turns out to be drunk and predatory. Fearful for her safety, she lies about her destination in order to get him out of the car. But when she later discovers that he is a teacher at the same school, she finds herself feeding that initial lie with more lies.
Then Katrina meets a mysterious man. Handsome, charismatic and strong, he is exactly what she needs to extricate her from the expanding network of lies, now spinning out of control. She falls fast and hard for him.
Her perfect solution, however, soon becomes a nightmare that lands her in the middle of a grisly murder. And Katrina's problems don't stop there. She must decide whether to betray her new love or to cover up the murder and hope for the best…until she discovers that the choice may not be hers to make.
Jeremy Bates has spent the last ten years traveling the world, visiting more than thirty countries. He has lived in Canada, the United States, Australia, Japan, South Korea, and the Philippines.
His frightening debut novel, White Lies, is set in a small village in the Cascade Mountain range of eastern Washington. In the book, he succeeds in bringing world-class terror to this tranquil community.