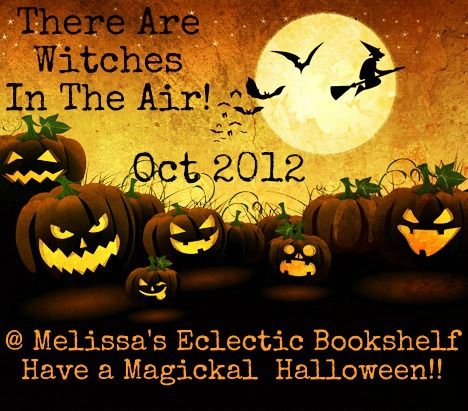 1. Please start by telling us a little bit about yourself.
Melissa, thank you so much for having me as a guest on your blog, and congratulations on your recent wedding! As far as telling you about myself, I'm a regular Witch like most, and I love to write! I was in the Navy, I had a theatre company (produced, directed and sometimes acted), and I've lived all over the United States - more places than anyone else I know. This country is filled with wonderful people!
2. When did you first discover your interest in magick & witchcraft and how/when did you decide to incorporate it into your writing?
My interest in Magick started as a teen. I used healing touch before I knew what it was, and I found that the things that I wrote in my journal in the dark of the night, the things I was most emotional about, would come true. For example, when I was seventeen and in the Navy, I had learned that my grandmother was dying, and my mom called to tell me that my grandma wouldn't live through the night. I wrote in my journal for hours that night, and it turned into a deep, intense meditation where I visualized going inside her body and scooping out the cancer. I fell asleep exhausted. My grandma not only made it through the night, she lived several more years, and they were healthy years.
As far as incorporating Witchcraft into my writing, the old adage, "write what you know" is true. I'm a Witch so I write about Witches
J
3. I know that you believe in magick, but just how would you define it?
When magick works at its best, it is folding the future you want toward you. If there is something you want to change in your life -- love, prosperity, whatever -- you do magick to "bring that change to you". To break that down: if you're seeing something that isn't in your present life, you visualize the future condition, and know that it is with you now until it eventually is now -- with ritual and specific kinds of magick.
4a. What impact (if any) do you feel that most of today's fiction with witchcraft elements has on those actually practicing The Old Ways or on the perceptions of those trying to understand these practices?
I think the impact for *the most part* is not a good one, which is another element that prompted me to write "The Grimoire Chronicles" series (not to be confused with the very different "The Grimoire Trilogy" which came out later). I haven't been happy with the texture of emotion that most books, television and movies have given what it feels like to do magick, and the worst fiction just reinforces and fosters very wrong ideas from other religions who don't understand us.
4b. What do you hope that readers take way with them after reading The Grimoire Chronicles?
My readers are so special, sophisticated and unique! They really "get" Cassie! My deepest wishes have come true -- that readers have a lot of fun reading my book, discover some magickal things they maybe didn't know, and perhaps share the book with people who don't know about Witchcraft *only* to help the world understand us better -- not to change a single soul on this planet or their beliefs (when they're healthy beliefs based in love).
4c. Can you tell us a little about your non-fiction work, Natural Magick: The Essential Witch's Grimoire?
At the time I wrote "Natural Magick" there weren't very many books on magick out there! The books had rituals spelled out for the practitioner (sorry for the pun); they didn't leave any room for creating your own sacred space and spells. You had to go to so many different reference books to work magick, one for astrology, one for stones, one for herbs, etc. The purpose of "Natural Magick" is to bring all of those elements together in one place and show how to create your own spells, your own words, your own power.
5. I find it interesting to know what environment authors find most productive… Do you use a pen and paper or laptop? Quiet room at home or bustling café? Basically, what gets your creative juices flowing?
Yes. Just kidding. I use a laptop. I had a flurry of activity at a bustling Greek café on pen and paper. I recently went on a month-long private and solitary retreat in Oregon to write "Winter Shock" which was sheer Summerland (other religions call it heaven). But while I was there, I sometimes had to get out and go to my favorite coffee shops and restaurants to write amidst the bustle. The thing that gets my creative juices flowing is being able to go deep, deep, deep into the work without interruption.
6. What has been the toughest criticism given to you as an author? What has been the best compliment?
Honestly, I have received all wonderful positive reviews, which has been thrilling (thank you again for yours, by the way!). One interesting reviewer who liked my book very much mentioned that my protagonist seemed older than her years, which was interesting for me. Cassie is seventeen. I was in the Navy at seventeen and had my own car and my own little beach house in San Diego, paying all the bills, etc. So, I think people are underestimating what a seventeen-year-old can do. The very best compliment was that "Veil Between Worlds" helped someone who was prejudiced against Witches (thought we were evil, etc.) do a complete turn-around and understood the loving, healing work that most of us embrace.
7a. What book is currently on your nightstand? And who are some of your favorite authors?
I am totally into Sookie Stackhouse right now! The books are hysterical! "Rebecca" is also on my nightstand. I love Hemingway, Margaret Atwood, Rowling, Juliet Marillier, and Christian Jacq. My favorite author is usually the one I am currently reading!
7b. Now to get more specific: What are some of your favorite Witchy reads?
The Mists of Avalon, Daughter of the Forest, Debora Geary's works (so cool you had a give-away of her complete series on your website!), and anything that casts a positive light on Witches!
8. Do you have any favorite Witchy Movies?
I just watched "Beastly" and really, really loved it. The Witch in the movie did a bad spell to make someone find the good in themselves - like a cosmic whack in the head. It's on my TBR mountain now. It was a very interesting message. I love the Harry Potter movies, although they're of course not real Witches.
9. What do you like to do when you're not writing?
I love cooking and being with friends, biking, hiking, and I'm also a Sivananda yoga instructor (not currently teaching, sadly), so of course I love yoga!
10. What can we expect from you next?
"The Grimoire Chronicles" will be an 8-part series, one for each Sabbat, and the next book "Winter Shock" is about Yule and will be out in a couple of weeks! I also plan on a novella that I've been working on, plus getting "Natural Magick" to e-book form. I finally got the rights back from the publisher
J
11. Do any animals share your life? Please tell us about them.
Aw, Melissa, that's a tough question. Normally I share my life with a beloved feline, but because of some super unusual living situations (moving for the health of my spouse), I've had to adopt them to good homes (I'm still getting good reports!). I miss them terribly, and it was one of the hardest things I've ever had to do. So hard, that I might not ever have another kitty because I don't think I could go through that again. Kitties are for life.
Thank you so much for having me, Melissa, and thank you so much for doing such a wonderful job for October and Halloween! Brightest blessings! Also - congratulations again on your recent wedding! You look so beautiful and happy together!

Author: Sally Dubats
Reading Level: Young Adult
Genre: Paranormal Romance
Release Date: July 4th 2011
Cassie is a teenage Witch with a problem — her memory was stolen. She blames astral projection; unplanned out-of-body experiences that induce amnesia happen when life gets ugly. Cassie does what any Witch would do; she casts a spell to remember. The magick sparks a mind-blowing adventure to another dimension where anything is possible, supernatural beings abound, and a dangerous romance blossoms with the very mysterious Trenton.

But Trenton is hiding terrible secrets, and Cassie suspects that he just might be the one who ripped a hole in her memory. The Witches' New Year looms, and the veil between our world and the next grows thin. Time is running out, and Cassie delves deeply into the highest arts of Witchcraft to discover the terrifying truth… and to survive. Will Cassie be trapped between worlds? With Trenton? Forever?

And who. . . or what. . . is Trenton?

The story is fantasy. The spells are real.
PLUS BONUS Dramatic Reading of Chapter 1

Sally Dubats is the author of "Natural Magick: The Essential Witch's Grimoire" which has been translated into German, and "The Grimoire Chronicles: Veil Between Worlds", the first in a planned 8-book series about a Wiccan protagonist.
Sally has held editorial positions for green non-profit organizations and was the editor of a metaphysical newspaper for several years. She has organized several writing groups and plans to create an inspirational e-zine for young writers.
Sally owned her own theatre company, writing, directing, and producing award winning theatre, and was a theatre critic for many years. She currently writes the blog "From One Witch To Another".
Sally is a student of the Tarot, reading professionally for fifteen years, and practices various healing modalities including Reiki and laying on of stones. She is a certified Sivananda Yoga instructor and loves to read.
Sally is Wiccan, choosing to practice and learn about a variety of Craft traditions which uphold the spiritual principles found in many religions.

Sally has been kind enough to offer up copies of the first two books in her Grimoire Chronicles series to one lucky winner!! Answer her question in the comments below and then fill out the rafflecopter to win:)
Sally's Question: What was your favorite Halloween costume *ever*?
a Rafflecopter giveaway