1. Please start by telling us a little bit about yourself.
Hello! My name is Clare, I'm 24-years-old, and I'm from rural Nova Scotia. I have an undergraduate combined-honours degree in journalism & psychology, and a post-grad certificate in publishing. I am the author-publisher behind Faery Ink Press, where I publish science fiction, fantasy, horror & everything in between. I'm also a freelance editor/designer/web manager.

2. When did you know that you wanted to write professionally and how did you take the leap to get into the business?
I've always known that I wanted to do it professionally, but it wasn't really until university that I learned the challenges of working for yourself. Going to Humber College and doing the Creative Book Publishing program there really solidified my publishing skills and connections and gave me the confidence I needed to write and publish my own stuff.

3. Can you tell me a little bit about your book and what inspired it?
The Violet Fox is a YA Fantasy novel. It's set in a land where there are two kinds of people: those that live on the surface, and those that are forced to live underground. The protagonist, Kiera, is the Violet Fox: kind of a Mask of Zorro/Robin Hood figure. She frees her people from slavery and steals food on the surface. One day, the Elders task her with retrieving a stolen magical tome from the surface. She has to disguise herself as a princess from another province and infiltrate the castle. Of course, once in the castle, she gets wrapped up in castle politics and schemes, and she also meets the handsome Prince Keegan…you can guess where it goes from there! She must decide whether her duties to her people or her own desires are more important.

4. What do you hope that readers take way with them after reading your book?
I want them to feel invigorated with the satisfaction of reading a good story, and I want them to be excited for the sequel! There's a teaser included for the sequel at the end of the book.

5. I find it interesting to know what environment authors find most productive… Do you use a pen and paper or laptop? Quiet room at home or bustling café? Basically, what gets your creative juices flowing?
Mostly, I write on my desktop, in my basement office. Sometimes I listen to music, but it often turns into a one-woman dance party if I do, which is never productive. Instrumental music is fine when I'm writing, especially if I'm on a roll! Sometimes I'll listen to a little bit of music before I start to write, to get me into a specific mood.

6. What has been the toughest criticism given to you as an author? What has been the best compliment?
Toughest? A reviewer for my last book said my characters were flat, that was tough. But for the same book, another book reviewer said that she cried when she read it (it has a bit of a darker, sadder twist). Everyone is going to have varying opinions on the same work, and as long as I continue to improve my craft, I don't get too worked up over negative criticism.

7. What book is currently on your nightstand? And who are some of your favorite authors?
At the moment, I'm reading Shatter Me. I'm enjoying the writing style a lot. As for favourite authors, I would say Maggie Stiefvater is #1 right now. Also, George R.R. Martin.

8. What do you like to do when you're not writing?
I'm a full time freelance editor/designer/web manager, so that eats up my life on most days. I'm a bit of a workaholic! When I'm not doing that, I enjoy playing video games, and watching certain TV shows (Community, 30 Rock, Dragon's Den, Supernatural are some of my favs). I also play the fiddle.

9. Do you have any advice for aspiring writers?
Don't wait for someone to give you permission to do what you really love. Start writing that novel today. Time is the most precious resource you have, as it can never be re-earned.

10. What can we expect from you next?
I'm working on a couple of projects. The sequel to The Violet Fox will be released sometime next year (2013), and it's called The Silver Spear. In this book, we'll explore Kiera's relationship with the prince and also learn more about the ancient artefacts of the realm, and those that want to abuse their power! Next year I'd also like to release a series of novellas about a kleptomaniac hermaphrodite in a fantasy land, called Two-Spirit.

11. Do any animals share your life? Please tell us about them.
Right now Boots the cat, belonging to my boyfriend's family, is the only animal in my life. He's around 16-years-old and he's the most spoiled cat ever. He's on a special diet because he has hyperthyroidism. He has this cute little face and an enormous gut, and never stops meowing for food. But he can be very cuddly, usually after he's fed, or when he's vying for food.
And now for a little bit of fun:)
This or That?

Coffee or Tea? Jasmine Tea!
Sweet or Salty? Sweet
Beach or Lake? Lake with a sandy bottom. As much as I hate leeches, I hate jellyfish more. Actually…maybe they are on par. Ever since I discovered that pregnant leech pooping out babies while I was lifeguarding, leeches have been put on the especially-gross list. At least you can avoid jellyfish in the ocean. Pregnant leeches, they know how to get you, unleashing their little arsenal/spawn onto your legs…
Okay I'll tell the rest of the story now.
We ended up trapping the leech in a bucket, and stranded it on a picnic table, and pushed/squeezed all the little leech babies onto the surface of the table. Over the course of the next several days, the leech dried out, and turned into a pancake, and fused with the picnic table. I wish I was kidding.
Do not feel sorry for the leech. Its spawn would have grown up and died anyway since we often salted the lake. It was better this way.
Winter or Summer? Summer all the way.
Cats or Dogs? Cats. Definitely cats.
Zombies or Vampires? Hmm. Anne Rice vampires, I suppose. Zombies are scary.
Country or City? Country.
Shower or Bath? Bath
Morning or Evening? Evening
M&Ms or Skittles? M&Ms
Trains or Planes? Planes
Comedy or Drama? Comedy

Thanks for having me, Melissa!

Author: Clare C Marshall
Reading Level: Young Adult
Genre: Fantasy
Release Date: October 13th 2012
Run.

That's what instinct tells me.

But in order to save the secrets of my people and to protect my brother I have to become the enemy.

There are two kinds of people in the land of Marlenia. The Marlenians, who live on the surface, and the Freetors, who are forced to live underground. The war between them ended two hundred years ago, but the Freetors still fight for the right to live under the sun. Fifteen-year-old Kiera Driscoll embodies the Freetors' hopes as the Violet Fox. In a violet cape and mask, she sneaks around Marlenia City stealing food and freeing her people from slavery. Then the Elders task her with a secret mission: retrieve a stolen tome that contains the secrets of Freetor magic, something the Marlenians both fear and covet. Kiera must disguise herself as a noblewoman and infiltrate the Marlenian castle. Before the Freetor-hating Advisor finds out her real identity. Before her brother is imprisoned because of the secrets he hides. And before she falls any more in love with the prince she's supposed to hate. More is happening in the castle than she realizes, and Kiera is faced with a difficult choice. Will she be loyal to her people and their fight for freedom, or will she be loyal to her heart?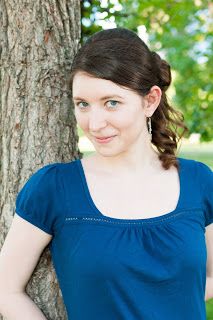 Clare Marshall grew up in rural Nova Scotia with very little television and dial up internet, and yet, she turned out okay. She has a combined honours degree in journalism and psychology from the University of King's College, and is a graduate from Humber College's Creative Book Publishing Program. She founded Woulds & Shoulds Editing and Design in 2010 for self-published authors and businesses looking for quality editing and design services. She enjoys publishing books through her publishing imprint, Faery Ink Press, and released her first novella, Within in 2011. When she's not writing, she enjoys playing the fiddle and making silly noises at cats.

Instructions for the CATCH THE VIOLET FOX Contest!
Congratulations! You've spotted The Violet Fox. Report her to the authorities for a chance to win!
Instructions:
1. Copy the URL of this blog post
2. Paste it in the appropriate CATCH THE VIOLET FOX Rafflecopter entry option (Catch Me #1 for CATCH THE VIOLET FOX #1, Catch Me #2 for CATCH THE VIOLET FOX #2, etc).
3. Spot the Violet Fox 5 times for more entries into the grand giveaway!
Stay tuned. Those who are vigilant with their spotting of The Violet Fox may be eligible for extra prizes ;)
a Rafflecopter giveaway
Blog Tour Schedule: http://www.faeryinkpress.com/books/the-violet-fox/blog-tour