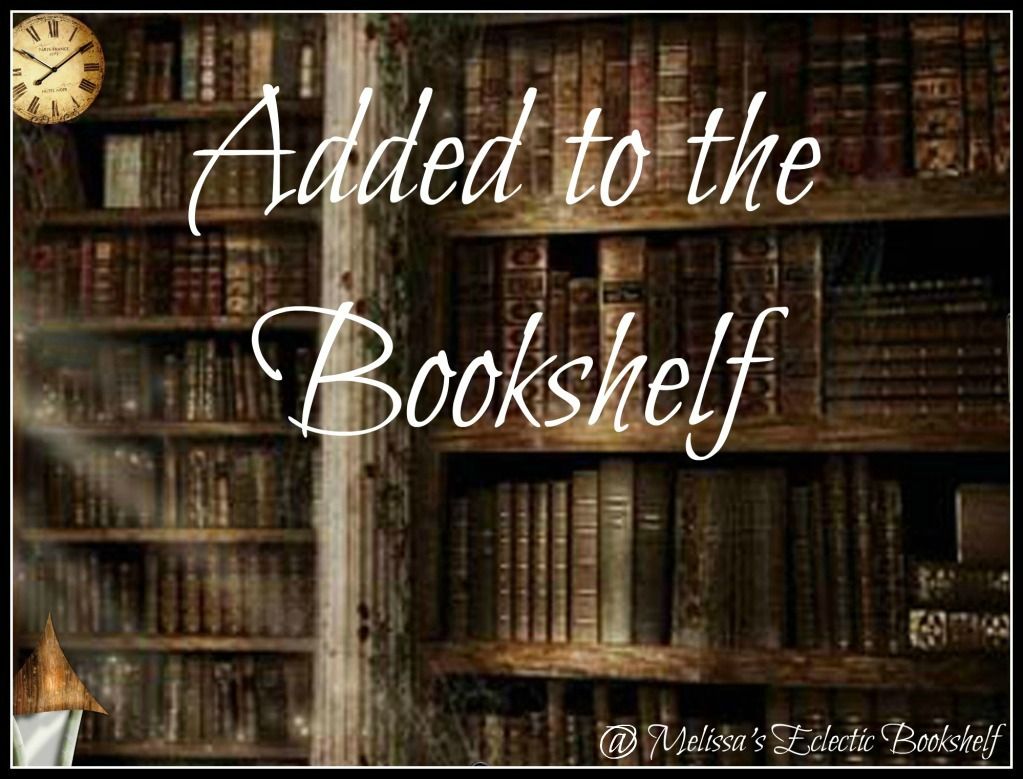 Sharing the week's bookish news and the books & bookish goodies that I've bought, borrowed, won, or been gifted and have added to my bookshelves over the past week!
(Inspired by Mailbox Monday, IMM, Clock Rewinders and the like)
I have been crazy busy at work for the past few weeks - working 11 hour days - and have just been coming home and crashing. Sadly I see no end in sight for this...we are going through a huge transition period at work and are only about half staffed!
The blog is suffering, I know. I have so many reviews that I need to write And I have had almost no time at all to visit other blogs :(
In good news my boss did surprise me with a bonus on Friday so Barnes & Noble...here I come! LOL
I've been thinking Shades of Earth as I really NEED to read it but I am debating an e-copy as the cover won't match my others... I am also thinking Vortex?
What do you guys suggest that I splurge on? And any suggestions for balancing Blogging with work?
Recently on Melissa's Eclectic Bookshelf:
Reviews:
Book Review: All the Broken Pieces by Cindi Madsen
Guest Posts:
Finding the Balance with TL Haddix, Author of Firefly Hollow
Interviews:
A Chat & Giveaway with Elena Dillon, Author of Breathe
Memes:
Teaser Tuesdays - Midwinterblood by Marcus Sedgwick
Reveals:
Cover Reveal & Giveaway: Corded by Alyssa Rose Ivy
Double Bliss Cover Reveal: Falling for her Fiance & Luck of the Draw
2 Cover Reveals / 2 Giveaways: Firefly by Belle Whittington & Bewitched by Mark Harris
Promo Posts:
Freak of Nature: Book Blast & $50 Gift Card Giveaway
Other:
WIN Your Choice in the Dreaming of Books Giveaway Hop
What I Read Last Week:
Miracle at the Museum of Broken Hearts - Talli Roland (Novella)
Tempest - Julie Cross (audiobook)
Altered Souls - Karice Bolton
What I Am Reading Today:
Before I Fall - Lauren Oliver (audiobook)

Midwinterblood - Marcus Sedgwick
Happier at Home - Gretchen Ruben
Ongoing Giveaways:
See the upper right sidebar for all nine(9) current giveaways!
Around the Interwebs:
Added to the Bookshelf This Week:
Clicking on book titles will take you to Goodreads.
For Review:
The Weiser Field Guide to Witches: From Hexes to Hermione Granger, from Salem to the Land of Oz
- Judika Illes
Falling for Her Fiance
- Cindi Madsen
Recalled
(Death Escorts #1) - Cambria Hebert
For Witches & Witchcraft Mini-Challenge Giveaways:
The Candle and the Crossroads
- Orion Foxwood
The Voodoo Hoodoo Spellbook - Denise Alvarado
Library Finds:
The Giver (The Giver Quartet #1) - Lois Lowry
E-Book Freebies:
Surrender
(The Ferryman and the Flame #1) - Rhiannon Paille
Eternal Youth
-
Julia Crane

,

Nolia McCarty

,

Heather Marie Adkins
Taking the Knife - Tam Linsey
The Wild Cats of Piran - Scott Alexander Young
What new goodies have arrived on your doorstep?
Leave me a link in the comments and I'll come check out your post!